Project Influence Area
A band of 150 km to 200 km has been chosen on both the sides of the Freight corridor to be developed as the Delhi-Mumbai Industrial Corridor. Accordingly, the Project Influence Region of DMIC includes parts of Uttar Pradesh, Haryana, Rajasthan, Gujarat, Maharashtra and Madhya Pradesh.
In addition to the influence region, DMIC would also include development of requisite feeder rail/road connectivity to hinterland/markets and select
ports along the western coast.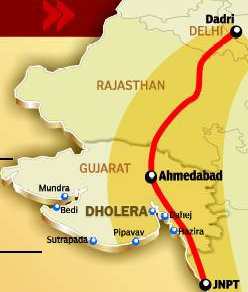 Integrated Corridor Development Approach for DMIC:
High impact/ market driven nodes- integrated Investment Region (IRs) and Industrial Areas (IAs) identified at strategic locations within the Project Influence Region to provide transparent and investment friendly facility regimes.
These regions are proposed to be self-sustained industrial townships with world-class infrastructure, road and rail connectivity for freight movement to and from ports and logistics hubs, served by domestic/ international air connectivity, reliable power and other quality social infrastructure, and provide a globally competitive environment conducive for setting up businesses.
An Investment Region (IR) would be a specifically delineated industrial region with a minimum area of over 200 square kilometers (20,000 hectares), while an Industrial Area (IA) would be developed with a minimum area of over 100 square kilometers (10,000 hectares).
24 such special investment nodes – 11 IRs and 13 IAs spanning across six states have been identified. Following have been taken up for implementation under Phase – I of DMIC Project.
Investment Regions:
Ahmedabad – Dholera Special Investment Region, Gujarat (903 sq. kms.)
Dadri-Noida-Ghaziabad Investment Region,Uttar Pradesh, (218 sq. kms.).
Manesar-Bawal Investment Region,Haryana (402 sq. kms.);
Khushkhera-Bhiwadi-Neemrana Investment Region,Rajasthan (160 sq. kms.);
Pitampur-Dhar-Mhow Investment Region,Madhya Pradesh (372 sq. kms.)
Industrial Areas:
Shendra-Bidkin Industrial Area, Maharashtra (84 sq. kms.)
DighiPort Industrial Area, Maharashtra (253 sq. kms.)
Jodhpur-Pali-Marwar Industrial Area, Rajasthan (155 sq. kms.)